Wakandi CAMS is now live in Tanzania to digitize SACCOs
We at Wakandi are proud to announce the launch of our Credit Association Management System (CAMS) in Dar Es Salaam, Tanzania.
Digitizing cooperatives and building a financially included society has been our biggest goal at Wakandi. To achieve this, we have worked diligently for more than 3 years to build CAMS, a solution that can digitize how SACCOs operate. CAMS is an app that SACCOs can use to send and receive money, create accounting reports, and manage their routine tasks – all digitally.
Recently, we organized an event in Dar Es Salaam with the Tanzania Federation of Cooperatives (TFC) to launch the ASDP II program. The event was graced by the presence of various representatives from organizations like TFC, TCDC, SCCULT, Innovation Norway, and NMB Bank. It was the perfect opportunity for us to present our CAMS system and how it can change the lives of millions of SACCO members. Espen Kvelland (CEO), Teje Width (COO), and other board members of Wakandi Group, Arve Haugseter, Andreas Holmen, and Svein Inge Forland joined the event for the launch. Richard Sinamtwa, Chairman of Wakandi Tanzania said, "On the ICT side, we have started with improvements on SACCOs in Tanzania. The main goal is to improve efficiency of the SACCOs so they can fulfil their responsibilities digitally and quickly so they can serve their societies. We believe that with the help of this system (CAMS), the term informal economy will be erased."
We also invited Mkolani SACCOS to share their experience with CAMS as our first customer. It was an immensely proud moment for all of us at Wakandi. Want to see how CAMS can help digitize a SACCO or an MFI? Reach out for a live demo.
Espen took the stage to talk about various advantages that CAMS offer to SACCOs making their operations fast, secure, and more transparent. He also talked about how the system can enable the Agricultural Marketing Cooperative Society (AMCOS) to form SACCOs smoothly. Here is a glimpse of the CAMS launch during the event.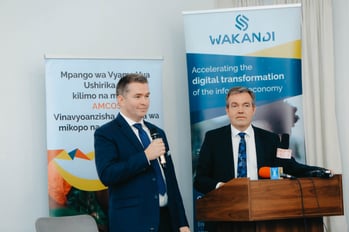 We are speeding up the onboarding process for several SACCOs in Tanzania looking forward to digitizing their operations with CAMS. Meanwhile, we are expanding in Kenya and Uganda to achieve our aim of a more included and digitized informal economy.