Wakandi and our social impact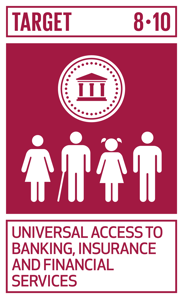 Wakandi is working towards becoming a global leader in creating equal financial opportunities. On the road to achieve this we recognise we have a responsibility to take into account the impact our business has and can have. Currently, we are working on sustainable development goal 8.10. On the ground in three countries, we are actively seeking to expand financial services for people in the informal economy.
SDG: 8.10
Strengthen the capacity of domestic financial institutions to encourage and expand access to banking, insurance and financial services for all.
When an IFG starts using the Wakandi platform in their day to day business all the IFG members will build a financial history. Over time this can enable access to formal financial services for the individual members. A digital platform will also provide security against theft, transparency and does not require travelling to the SACCO to make a transaction. The Wakandi platform can enable members to access a growing range of financial services, based on a financial history that they can share with financial service providers who participate in a marketplace that develops around the groups. Our platform does not require ownership of a smartphone, it is also available through USSD codes, increasing the number of people, especially women, who can access financial services.
SACCOs and MFIs can use CAMS to grow and expand their cooperative model and help millions of people with the power of technology. Reach out to us to know more about the system.
MASSIV:
"Wakandi has a tremendous impact potential in terms of contributing to a broader and deeper access to credit for small and medium-sized enterprises (SMEs) in developing countries. Wakandi has a significant opportunity in measuring the direct effect on the SMEs to track their progress towards this realizing this potential."
–Søren Schou, impact measurement expert
"Wakandi showed tremendous progress in the Mastercard Lighthouse MASSIV program by initiating different partnership dialogues that can enhance their social impact significantly. Financial inclusion is an important aspect in Mastercard's impact commitment, and the Mastercard Lighthouse team is inspired by the way Wakandi tackles the challenges in developing markets. The company showed a great impact potential and has a purpose that aligns with MASSIV's vision of helping 1 billion people live more prosperous and secure by 2025. This is one of the main reasons why Wakandi won the Impact Potential Award in the 2022 spring program."
–Eleonore Hinlopen, Program Manager Lighthouse MASSIV at Mastercard
.
SDG: 10.1

By 2030, progressively achieve and sustain income growth of the bottom 40% of the population at a rate higher than the national average.
In Kenya, we have started to work with boda boda (motorcycle) groups. These groups are in the bottom 40% of the population economically, and we will provide them with greater ability to generate income through loans. The drivers will have more affordable loans and can pay back loans from their phones. This again will give them more time to drive and thus earn a better living.