TAMFI partners with Wakandi – digital journey for Tanzanian microfinance begins
Microfinance institutions are taking steps to improve people's lives in Tanzania. For this progress to speed up and reach the next level, the MFIs need the most efficient way to keep up with the growing world of digital finance.
To fulfil the aim, TAMFI has partnered with Wakandi to increase operational efficiency in microfinance. TAMFI as the biggest apex organization in Tanzania with 128 active members keeps on with its role of promoting sustainable and inclusive microfinance practices.
During its 6th Annual General Meeting held recently in Dar es Salaam on the theme "Microfinance for Socio-Economic Progress,", TAMFI announced its partnership with Wakandi. As TAMFI partners with Wakandi, it will now be easier for them to manage thousands of microfinance groups in Africa via 'CAMS – a digital financial management system' that Wakandi offers. CAMS will solve MFIs' challenges and offer solutions like digital loan applications, online payment, automatic reporting, and more.
Know how CAMS as a financial system can bring digitization to microfinace institutions and make their day-to-day tasks a bit easier.
"As technology takes charge, and new players enter the financial world, we can still see how existing microfinance fits in, so we play our part as a fintech. Wakandi has created a digital accounting system for MFIs, the 'Wakandi CAMS'. One small detail I can tell you about Wakandi CAMS is that it is designed to operate by following your MFI policy. For example, the platform allows the Microfinance admins to give permission or restrict specific staff members to perform a specific task. Not to mention, this system has an accounting feature that generate reports that are usually requested by BOT. We are happy to partner with TAMFI to provide convenience, security, and an easier system for both microfinance managers and customers,"Sele Mduda from Wakandi stated.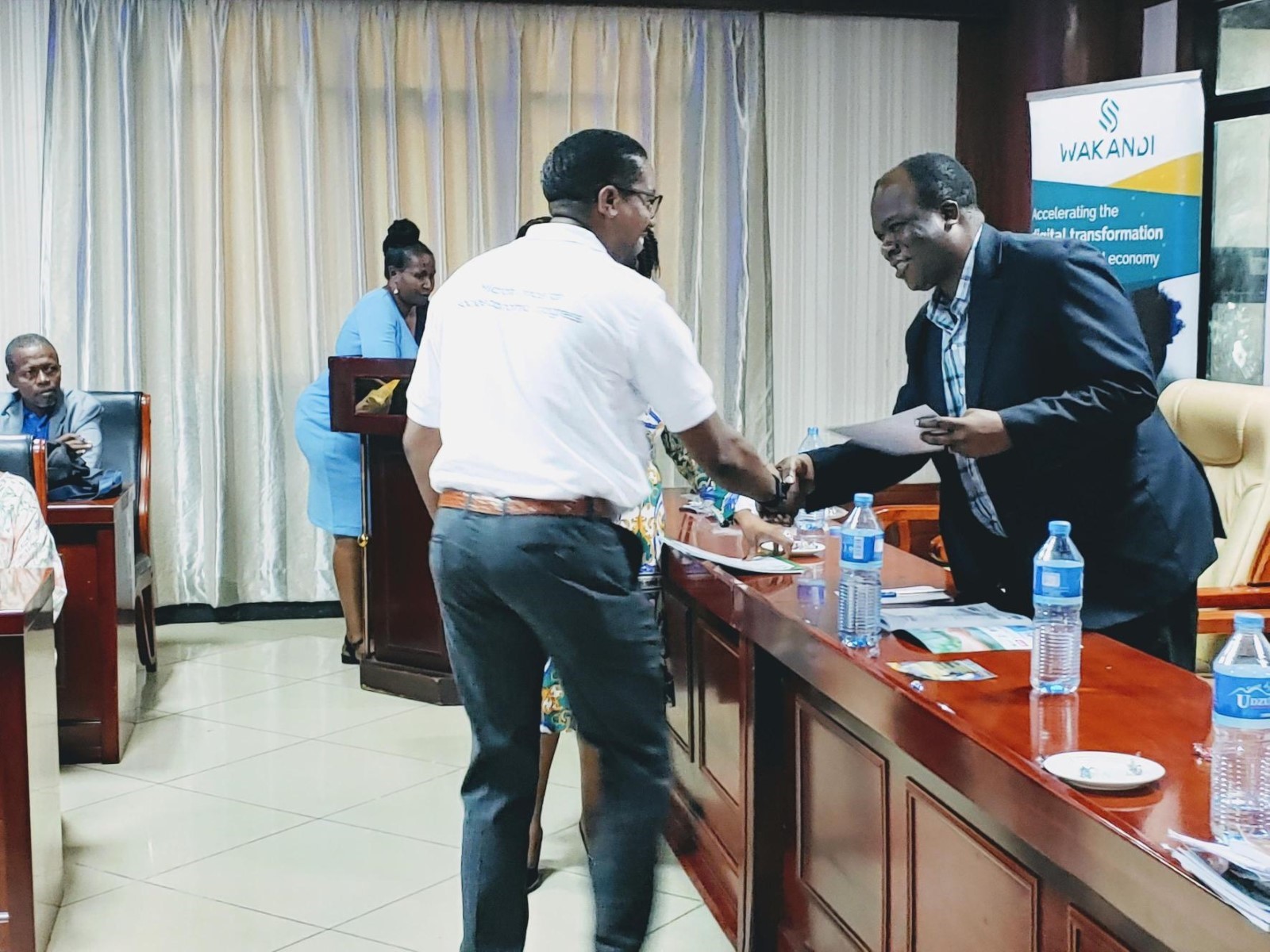 The Board Chairperson of TAMFI, Mr. Joel Mwakitabu, hands a certificate of appreciation to Mr. Sele Mduda from Wakandi, during the TAMFI Annual General Meeting at the Peacock Hotel, Dar es Salaam.
TAMFI's executive director, Ms. Winnie Terry, expressed the excitement of having Wakandi as new partner, she said "Wakandi has already shown us a lot in our short time together. We at TAMFI are proud to be partners with Wakandi, and it is going to change MFIs in Tanzania for sure. I am saying that because we have seen the system and it is simple and helpful. We really encourage members of TAMFI to try out the ICT service provided by Wakandi, we are sure they will see the difference."