Solving the issue of poor record-keeping for IFGs
Every company must maintain adequate accounting records – be it a bank or a small microfinance company. Several orders and acts are there to force businesses to keep records for regulatory purposes. Such an act is the Microfinance Act 2018, introduced in Tanzania. The act aims to provide for the licensing, regulation and supervision of microfinance businesses.
According to the Microfinance Act 2018, "The Bank of Tanzania (BoT) has the right to inspect or examine books of accounts, records, and other businesses' documents to ensure better performance and protect consumers rights."
Existence of such acts forces microfinance institutes and informal financial groups (IFGs) in Tanzania to maintain adequate records to meet regulatory requirements. However, the situation is quite different here.
According to the Assessment of IFGs in Tanzania report by Financial Sector Deepening Trust (FSDT) and BoT, "Poor record-keeping is one of the big 3 issues savings groups face." The report also states, "Poor record-keeping afflicts every type of group, from upatus that maintain internal accounts, to funeral societies, VICOBAs, and VSLAs."
Almost 70% of IFGs believe that they require additional skills in record-keeping.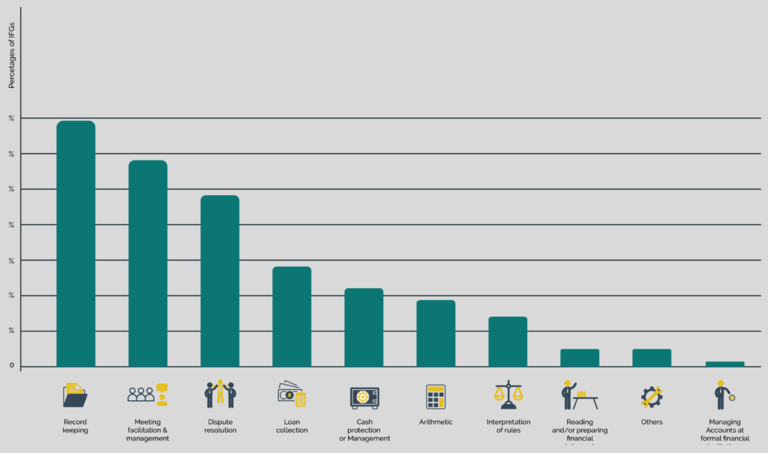 There is much scope for continued innovation among savings groups which cater to millions of households in Tanzania. Wakandi strives to bring innovation to IFGs with the help of technology and innovation. We aim to help these groups by offering a digital solution to maintain financial records and transactions. We call it the Credit Association Management System (CAMS).
CAMS is an advanced digital system for savings groups to manage savings and loans effectively. It can be used to help with recordkeeping, maintaining books and performing day-to-day operations digitally. Besides, every transaction will be done through mobile, and without the need for cash. That said, all transactions will be recorded and maintained digitally. It will not only reduce manual efforts but will also build a secure record of daily transactions online. The group admin can use the admin panel of the system to access the records.
The transactional record can help to create accounting books and effectively manage transactions. It can help savings groups and microfinance institutes solve the issue of poor record-keeping. More importantly, they will be able to meet regulatory requirements.
Furthermore, this will also allow informal groups to collaborate with banks by sharing the data and serving their members better.
Conclusion
At Wakandi, we believe that CAMS can help solve many challenges if not all that savings groups face today. We also believe that the system can enable secure and real-time value transfers, reduce fraud and raise the quality of life for millions of people in Africa.
As we are moving closer to launch the system in Tanzania, South Africa, and The Gambia, we aim to partner with financial institutions and banks for a comprehensive launch. Together, we aim to bring innovation to informal financial groups and build a completely cashless experience. You can subscribe to our newsletter to receive the latest updates from Wakandi. Fill the form below to subscribe.