How technology is shaping Africa's informal finance
Technology has been transforming businesses across the globe and there is no stop sign. Industries are witnessing innovation through technology that is changing their products, processes, and equipment.
Technology in itself is exciting but combining it with something crucial and ever-changing like finance, it becomes more transformational. It finds and explores newer opportunities to help millions of people through better financial services.
With the changing paradigm, technology is bringing innovation to small and large companies. Fintech in Africa has become a household word for startups and banks, transforming the forefront of the industry as we know it.
Mobile money
Although cash remains the primary mode of payment for many countries in Africa, the face of payments is changing substantially. Africa has become the biggest mobile money market globally. COVID-19 pandemic and its restriction measures also triggered a widespread adoption of mobile payments amongst the people.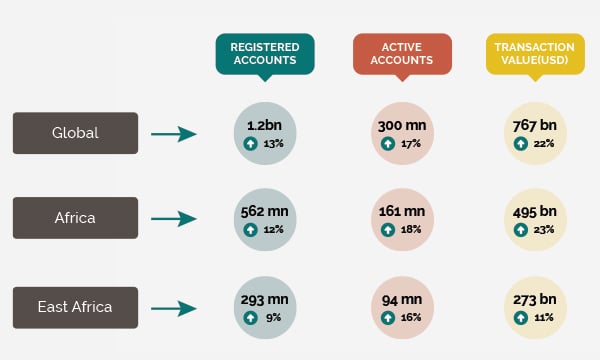 The number of registered mobile money accounts grew to 562 million at a 12% growth rate. The number of active mobile money users rose 161 million at a rate of 18%. East Africa contributes significantly to the growth of the African mobile money market with 293 million registered mobile money accounts and 94 million active accounts, growing at a rate of 16%.
This strong growth of mobile money in Africa suggests that people are using mobile money in more advanced ways. It brings a profound impact on the financial inclusion of the unbanked and various digital financial services offered.
Financial inclusion
"Mobile money accounts now surpass bank accounts in Sub-Saharan Africa, and greater financial inclusion has benefited large swathes of the population."
– International Monetary Fund (IMF)
A big chunk of people today rely on mobile money accounts to send or receive money. They use mobile wallets to pay their bills, receive salaries, and pay for daily goods in stores. It has benefitted a major chunk of the unbanked population, including the young, the poor, and women.
Mobile money is changing traditional finance by offering a new and better way to transfer money instead of using physical cash. The value of mobile money in Africa has grown significantly over the years to boost financial inclusion for the unbanked. Consider how M-Pesa, T-Pesa, and MTN MoMo are boosting digital financial inclusion to help millions. It has allowed African businesses to move up the financial services value chain.
Connecting formal to informal
Today, many established companies and startups are entering the market to digitize financial services like loans, savings, insurance, and international remittance. Mobile money plays a critical role to support these services.
"We can no longer overlook the critical role the mobile industry plays in our economy. Such a direct and affordable channel before has never existed, and mobile phones are now held as critical enablers to eradicating poverty in all its forms and achieving the sustainable development agenda."
Samia Suluhu Hassan, President of Tanzania
Mobile technology today connects more than 47 million people to various digital initiatives launched by the Tanzanian government. 57% of mobile money subscribers in Kenya are using their accounts for activities beyond peer-to-peer transfer and cash-in-cash-out.
Countless retail stores accept payments through mobile wallets. Online stores are on the rise as more people are getting accustomed to online payments. Various acceptance technologies are available in the market, including QR codes, NFC, and USSD.
Government organizations of African countries are launching various programs related to poverty reduction, agriculture, healthcare, education, and citizens' wellbeing. Mobile money provides a quick and reliable way to connect the people to these programs, covering a broader area in less time.
International remittance is another essential service that Africans are using through mobile wallets. The total value of mobile money-enabled international remittances has already reached $7.3 billion in 2019.
Digital platforms
The progressive financial sector of Africa is on the lookout to bring transformation in financial services. Exponential growth in technology has prompted businesses to leverage digital platforms for convenience and efficiency. These digital platforms have an impact on the supply and demand of goods and services, job creation, and the efficiency and speed of financial services for the unbanked.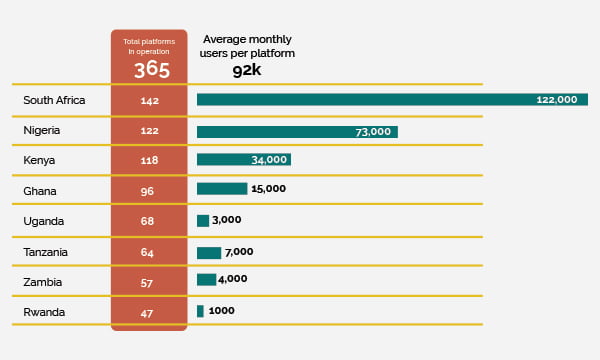 Digital platforms are expanding operations in Africa reaching a total of 365 platforms, with an annual growth rate of 18% in the monthly user base. South Africa has the most number of platforms with the biggest user base, followed by Nigeria and Kenya.
Digitize loans and credit services
Cooperative societies are an essential part of the informal financial space in Africa. Millions of people in countries like Tanzania, Kenya, South Africa, Nigeria, and more rely on these societies for their banking needs. Digital platforms can play a critical role for cooperative societies to help them provide loan and credit services to farmers, small workers, and small and medium enterprises. These platforms can digitize traditional financial services and enhance convenience, speed, and security.
The number of digital platforms across the African continent increased by 37% between 2018 and 2019. A number of benefits that digital platforms offer to Africans:
Adopting digital platforms brings automated record management as every transaction will be saved online.
Such digital record management can also reduce the chances of fraud in cooperative societies.
Digital platforms can bring better speed and security in their operations like deposits, loans, managing finances, adding new members, etc.
There will be less dependency on cash which will ensure faster and secure transactions based on mobile wallets.
Digital platforms can make it easier for cooperatives to stay compliant with the latest government guidelines and regulations.
Wakandi offers a digital platform to promote cashless transactions and digital processes for savings and credit cooperative societies (SACCOs) and microfinance institutes in Africa. We are currently operating in Tanzania and Kenya with many local cooperatives to digitize their operations. You can read more about our solutions here.
You can also reach out to us by sending us a message and get more information about the system.
Financial footprints
Using digital systems in Africa can help create digital footprints for the unbanked population. The footprints can include a digital ID, daily transactions, account details, spend analysis, total savings, and more.
These details can be shared with banks and financial institutions that will help them reach the unbanked population and offer them better services. It will also enable KYC and AML processes for banks as the data of customers will be already available to them.
Advanced usage of digital platforms can help build a digital financial ecosystem for the people in Africa. This ecosystem will connect people with the available financial services for faster and better delivery of services.
Moving forward
Digital technologies can create new economic opportunities for the informal sector in Africa. However, the uptake of digital systems amongst the people is essential to reap these opportunities. Governments, banks, and other institutions must take the required actions to ensure the widespread adoption of technology and tech-based systems. With combined efforts, we will see a positive change in how the informal financial sector in Africa operates.