How fintech is eradicating poverty in Africa
While the global poverty rate is decreasing, the gap between developed and developing countries is widening. According to the United Nations Development Programme, 10% of the world's population lives under extreme poverty.
In developing regions like Sub-Saharan Africa, the number of people living below the poverty line is extremely high. In 2006, 34 of the 50 nations on the UN list of least developed countries were in Africa.
Furthermore, the availability of banks and traditional institutions in Africa have historically been low. The situation is even worse in rural areas, where approx. 80% of people rely on locally formed financial groups to get access to savings and loans.
The impact of fintech
Poverty has been a challenging issue in many African countries. However, the situation is transforming as we adopt new technologies and systems. The emergence of financial technology (fintech) is playing a vital role in eradicating poverty in Africa.
Better financial inclusion
When we talk about the impact of fintech in reducing poverty in Africa, the first aspect that comes to mind is financial inclusion. While the penetration of banks in rural areas has remained low, fintech has played a pivotal role in providing communities with access to financial services.
More and more people use mobile phones to send or receive money, avail credit facilities and transfer international remittances. Moreover, it has paved the way for more extensive financial services such as insurance, business loans, and investments. Major mobile network operators (MNOs), including Airtel and MTN, have also collaborated with government organizations to offer credit facilities to every corner in Africa.
That said, access to mobile money has led to affordable and reliable financial services for millions of people. It also helped increase household consumption and savings, therefore reducing the rate of poverty.
From cash to digital transactions
Usage of mobile money and fintech services has led to a significant shift from cash-only transactions to more secure and effective digital payments. In 2019, the volume of digital transactions in Sub-Saharan Africa surpassed cash transactions for the first time. Today, people primarily use mobile money services to send or receive money online.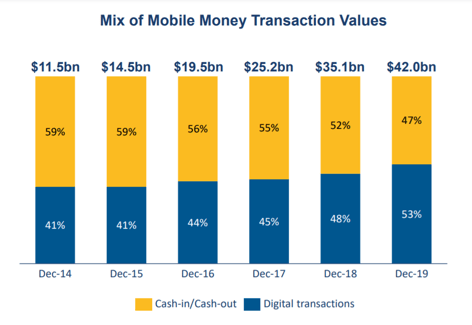 M-Pesa, one of the first mobile money services by Safaricom, changed the face of retail transactions in Kenya. The service made it possible for unbanked people to pay for goods and services using mobile phones. It was a boon for societies where limited access to traditional banking was available.
This radical shift from cash to digital also led to digital footprints that banks can use to check creditworthiness and provide loans. With digital footprints, poor people who have remained unserved or underserved can now apply for loans from banks and formal financial institutions.
How Wakandi aims to empower poor
At Wakandi, we aim to bring positive changes in African societies with the help of financial technology. We have built a digital solution that informal financial groups (IFGs) can use to deposit contributions and apply for loans through their mobile.
With our solution, the Credit Association Management System (CAMS), we help IFGs reduce their operational costs by minimizing manual tasks. It can enable groups to offer more affordable loans and savings facilities to their members. Consequently, it will open doors for better services and generate better growth for the poor.
Get a live demo of CAMS system to see how cooperatives and MFIs can use it to enhance their operations and expand growth.
Conclusion
The need to empower the poor in developing regions like Africa has become more crucial than ever. Fintech and mobile technologies have brought a paradigm shift in the financial world to help the poor with affordable services and solutions.
As the dependence on technology continues to rise, more fintechs are looking to enter the market. They may offer solutions with the potential to raise the living standards and lead people towards more inclusive financial development.